This week in five seconds
Regional house price performance highly varied
Partial chain completion tactics
Get clear conveyancer instructions
Quiet week for new listings
Gardens are hot property
Regional house price performance strong but varied
Both Nationwide and Halifax indices reported strong growth, with the average UK property in May increasing +10.9% and +9.5% respectively year-on-year.
These headlines never tell the whole story. London was expensive before the pandemic and has not participated in this house price growth. What we have seen is that UK property prices have now caught up with the price growth seen in London in 2014-16.
The regional performance is provided quarterly by Nationwide and it reflects stronger growth in less expensive areas.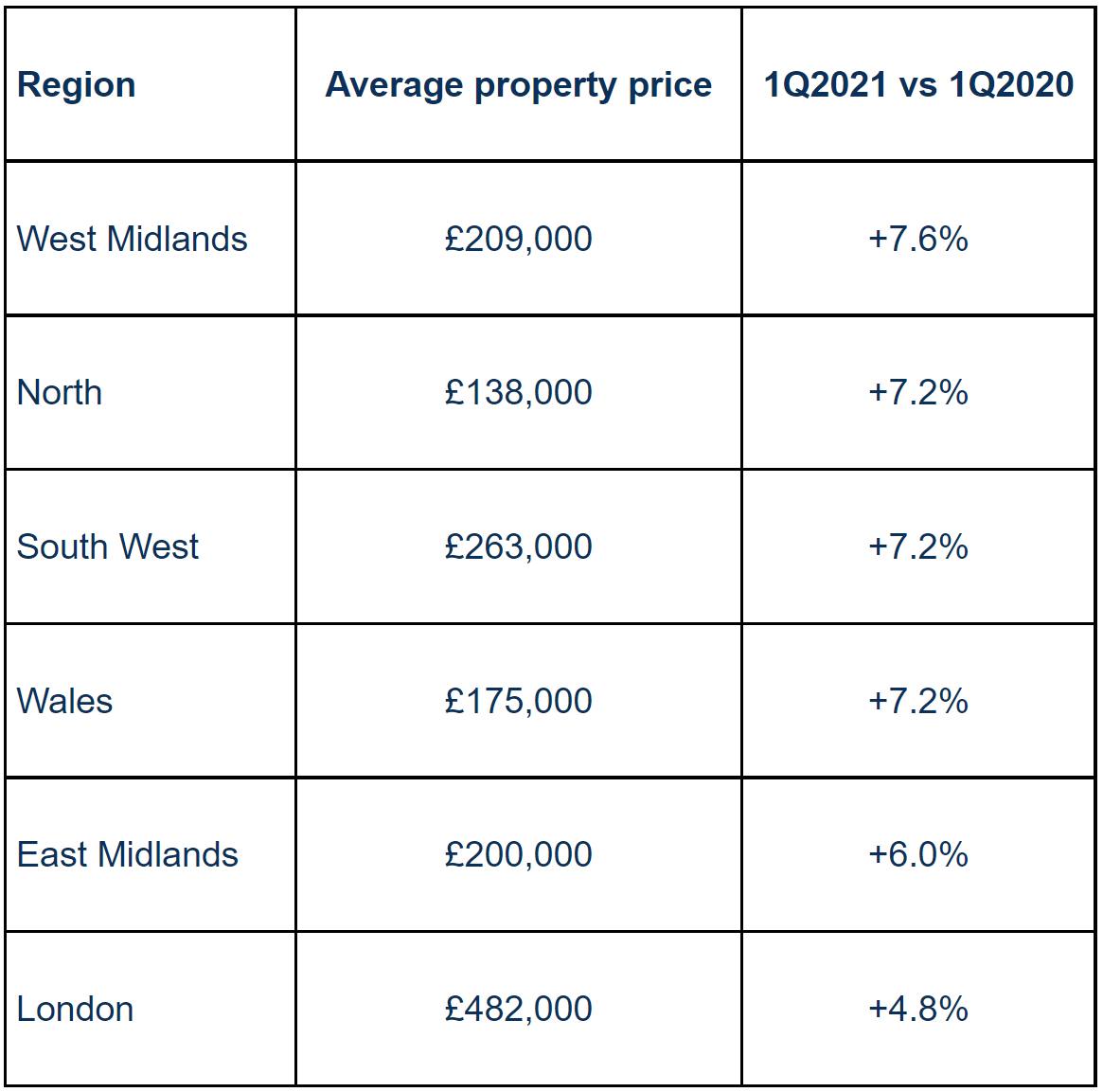 Partial chain completion tactics
Pressure is building further on solicitors this week as a number of lenders are insisting on completions well before the end of June in anticipation of the huge volume of transactions, potentially resulting with the issue of funds not arriving in time for completions.
With many purchasers not having the affordability to complete in July, the pressure has resulted in buyers and vendors, in some instances, looking at alternatives to a traditional completion. Some, with the agreement of their lender, have agreed that the sellers can rent the property back post completion in the event that the top of the chain is unable to complete. For the purchaser, renting short term is still a significant saving on completing post 30th June. This is still a highly unusual approach but interesting that it is not just the solicitors and agents that are looking to find ways around the potential complication of funds being delayed.
Get clear conveyancer instructions
Both buyers and sellers want to be top of their conveyancers priority so if you are buying a property or your property is under offer make sure the communication lines are clear between yourself, the agent and the solicitors in order that frustrations are limited.
Quiet week for new listings
For those listed or looking to list, we have seen another quiet week with properties coming onto the market but there is still good activity among buyers. As with previous weeks, activity is fairly varied between areas but confidence overall is good.
Gardens are hot property
With the return of the sunshine after what can only be described as a fairly miserable May, the focus has returned to outside space. If you are selling a property that has outside space, do what you can to ensure that this is presented well so that potential buyers can visualise how they will use the space. During the winter months many buyers don't even go out into the garden or onto a roof terrace when they view a property. In the summer months it is often top of their priority list.
Enjoy the sun. Have a great week all.
The Movewise Team