This week in five seconds
Lower market is extremely buoyant
Prime market is a fraction of this and sales rate is half that of the low end
Well priced properties selling quickly and easily
Active agents are able to generate offers by working their sales lists
RICS projects the market to fade end of year 
Lower market (£100-400k) is buoyant
As shown in the chart at the top the volume of listings since June 1st is significant and we estimate approximately 30% higher than last year.
At the lower end of the market these listings are being met well by buyers and sales during the period were 58% of listings so supply is being met quickly with bids.
We are seeing this on the ground - if you are priced correctly you will likely get an offer very quickly. Many vendors then want to pass on this offer assuming that with longer marketing they will get higher offers. This is not often not the case.
Prime market (£900k+) is much tougher
The top of the market (properties £900k+) representing just 5% of UK wide listings is twice as hard: sales during the period were 28% of listings.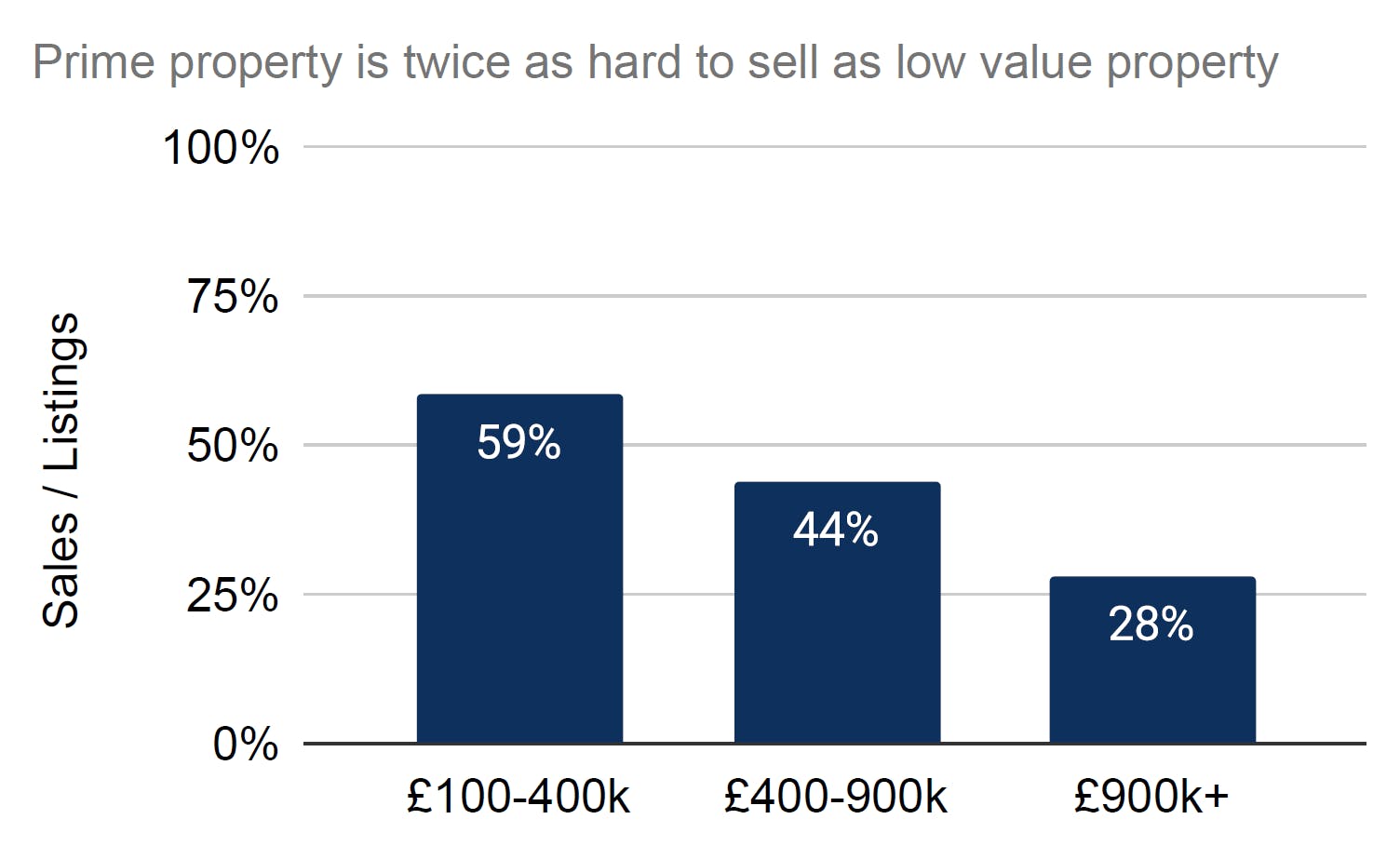 Active agents are generating more business
We have also had a number of instances this week, with relisting of properties, when an agent is given notice and is then prompted to go back and contact all the applicants that have viewed a property, they suddenly get renewed interest and very strong offers. As we have said before, a proactive agent with suitable applicants is the key to selling your property.
Whilst Movewise is able to produce even better results for clients that initiate their sale with us around 40% of our business is relistings and customers experience an exceptionally good sales rate when we manage their relisting. If you are struggling to sell your property with any agent contact us here for more information.
RICS expects the market to fade
Whilst all news outlets note the rise in prices year on year and strong activity due to stamp duty changes, RICS July survey saw 12 month expectations of sales volumes to decline, price to be flat to up, and London prices to be down. "Significantly, some contributors are now even referencing the possibility of a boom followed by a bust," said Simon Rubinsohn, RICS chief economist.
Have a great weekend all.
 The Movewise Team