10 second read (busy week!):
Buyers: lots of enquiries with phones "ringing off the hook"
Listings: a large surge in pent up listings last week pulled back this week leaving listings for the week -51% below February levels
Offers: Currently high quality but seeking a discount. Typically 95%+ of asking price and cash/no chain
Prices: Discount to asking price is currently low due to temporary shortage of stock. May worsen as listings volumes (supply) still rising
"Move to the Country": almost 50% of enquiries to agents 1-1.5 hrs from London are from those accelerating a plan to move out of the city
Should you list?: We recommend testing the water now to capture the early surge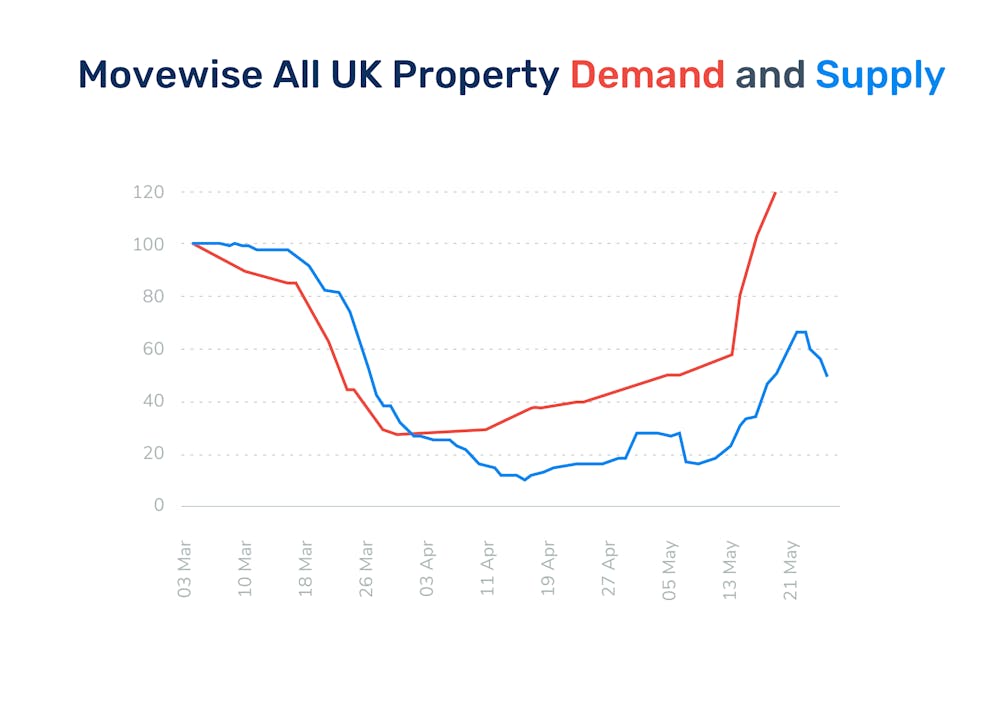 Chart 7 day avg rebased to March 2, 2020: Demand is online enquiries and offers, supply is listings.
Buyers: Lots of enquiries
Agents are still experiencing large volumes of enquiries and phones in some areas are 'ringing off the hook'. We have seen open houses on Zoom this week which in some instances has resulted in more than one offer. The online/virtual tours continue to prove very popular and effective.
Sellers: Bids are coming at 95%+ of asking price but high quality
Volumes of valuations are still on the increase and higher numbers of properties are now being listed for sale. If you are looking to sell, our advice would be to test the market as soon as possible and take advantage of the more than likely temporary imbalance of available property vs demand.
If your property is already on the market be aware that we are still seeing a very price sensitive environment and in some cases 'cheeky' offers (although most are still 95%+ of asking price). Many buyers are of very high quality (nothing to sell/100% cash) so using their position to challenge vendors on asking prices, particularly as stock levels begin to increase.
Agents are often suggesting two options in relation to asking prices, either coming on at a very competitive level to encourage competitive bidding or to list at over the expected level and give plenty of room for negotiation. This is quite a change from earlier in the year when we were seeing most agents marketing properties at the level they felt they were likely to achieve.
Movewise recommendation on listing pricing is:
Properties that have no flaws: If you are brave enough we would put our own property on at a competitive level. We have had so many stories this week of properties going quite significantly over the asking price taking this approach. The key is having a good agent armed with plenty of comps to convince their applicants that this is a really competitive asking price. It also relies on a property that is an attractive buy.
Properties with lots of compromises: We would recommend listing over the expected price and leaving negotiation room.
Viewings: Virtual popular and in-person increasingly returning
Less agents are insisting buyers have virtual tours ahead of physical viewings as most agencies and vendors are becoming more comfortable with the safety procedures in place.
Pent up demand is resulting in high numbers of viewings but with offers in many cases being slow to come forward. The lack of offers in some part may be put down to buyers changing their criteria post Covid-19 and therefore need/want to do their due diligence on the new area in which they are looking to buy.
Some agents have used the opportunity of Zoom to conduct virtual open houses which in certain instances has resulted in more than one offer. The online/virtual tours continue to prove very popular and effective.
The "Move to the Country": lots of enquiries
Many agents, within reach of London are reporting that nearly 50% of new buyers are wanting to move out of the city. Covid has given them the motivation to get on with a move they planned to make 'at some stage'. Most still want to be within reach (1-1.5hrs) of the capital.
Sales progression: Buyers stalling normally due to change in financial circumstance
Agents are seeing a limited number of re-negotiations on SSTC properties this week. The majority of these are coming from purchasers who have found their financial circumstances have changed, or simply that they are unsure what the future holds and therefore, despite low interest rates, are nervous of overly financially committing themselves.
In this market it is imperative that once you go under offer you have an efficient solicitor working with a team like Movewise to push your sale through as quickly as possible to exchange. There is a significant amount of legal paperwork you can prepare and hold with your solicitor before you agree a sale so make sure you are doing that.