5 second read:
House Prices: UK house price index fell -1.7% from April to May, largest mom drop since 2009. Whilst this sounds bad, so far it represents only a retracement of strong "up months" in March and April (Source: Nationwide)
Buyer enquiry volume is high but viewing volumes are 50% of what they normally would be due to safety restrictions. 3D virtual tours remain popular.
Seller Listings volumes: now only -26% below February as sellers continue to re-engage.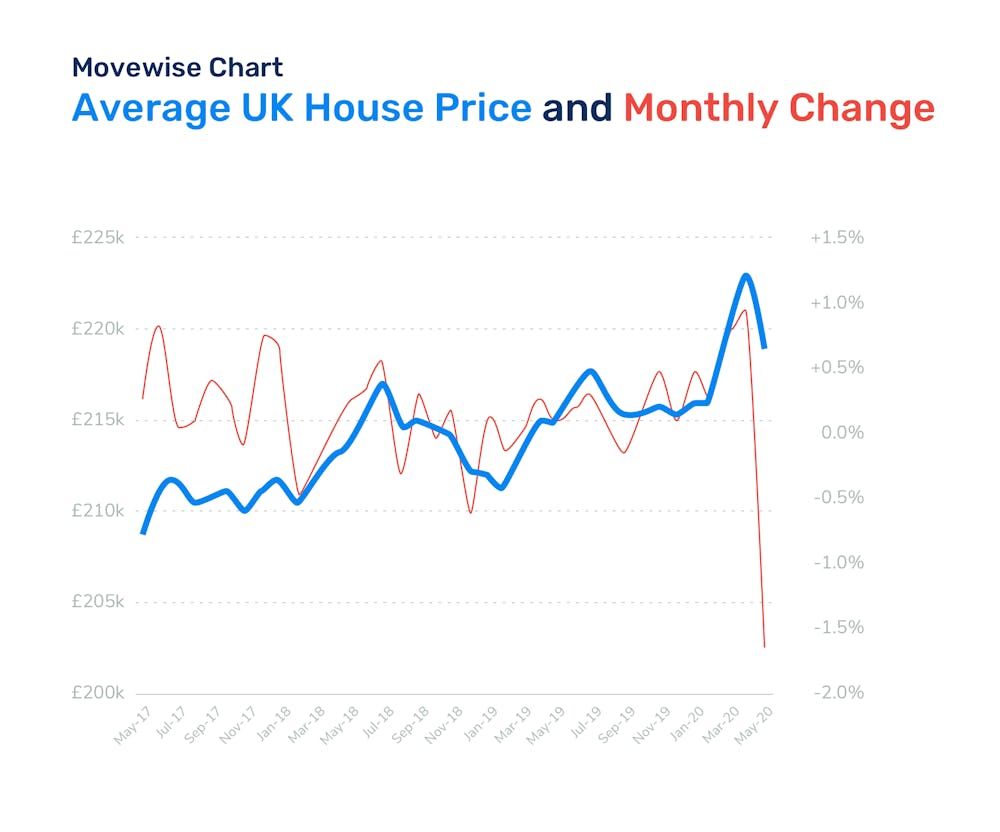 Buyers: Enquiry levels still high
Volumes of buyers are still high and agents are struggling to keep up with both virtual and physical viewings. Due to safety procedures most agents are only able to carry out 50% of the physical viewings they usually would. Many buyers in good financial positions are making offers of up to 10% below asking prices. Plenty of buyers who aren't yet proceedable as they have only recently decided on moving and therefore need to list/sell their own property.
Sellers: May see competitive bidding if they 'price to sell now'
Volumes of valuations are still high. There are very low/no cases of forced sellers - this is not a financial crisis. Sellers who put their plans on ice due to Covid are taking advantage of the pent up activity and starting to balance out the burst of demand from the market reopening.
We recommend for those on the market be competitive with your price and look closely at comparable properties available and under offer.
We have seen agents not offering 2 but 3 options on asking prices this week! (1) Very competitive pricing strategy to encourage multiple bids (2) What the agent considers 'market value' pre-Covid and see what happens or (3) Expect that buyers are going to want to negotiate by up to 10% and to list at over the level you expect to achieve.
Empty properties are, at the agent's discretion, still being shown and agents are hopeful that they will shortly be allowed to show inhabited properties subject to government guidelines. Virtual viewings are still proving a popular tool in decision making for applicants as to whether they will look to view a property once they are able.
Movewise recommendation on listing price
If you want to sell your property before September be competitive, particularly if you can take advantage of buying and selling the in same market.
If you are in no rush, list at a pre Covid-19 market level. You are likely to need longer to go under offer but as long as you have enough comparable evidence to support your asking price you may get lucky. Be ready to drop your price if necessary, should the market drop you don't want to follow it down. Be ahead of the game.
Viewings
All agents that we are dealing with have now got excellent safety procedures in place and are carrying out physical viewings. We are still seeing huge benefit in the 3D virtual tours and are arranging these on all new instructions. Due to restrictions viewings are short so make sure your property looks its best.
Offers remain slow to come forward, particularly on properties with high expectations on price.
Sales progression: Buyers mortgage offers falling through
Agents are seeing higher volumes of re-negotiations on SSTC properties this week. These are mainly from purchasers who are trying to secure high loan to value mortgages. Lenders are issuing mortgage offers in principal but post valuation offering lower loan to value percentages than initially agreed.
Make sure once your sale is agreed that all parties are committed to progressing to exchange as soon as possible. Always ensure that a clear timeline is agreed, particularly if the buyer has agreed a favourable price.
Have a great weekend.