This week in five seconds
Prime London flooded with new listings but buyers are few and far between
Agents are listing 6X the volume of property they are selling
80% of Prime London vendors pull out unsold
Get informed with your Movewise Local Market Report
Low sales rate impacting fee negotiations
Prime London flooded with new listings
Greater London is seeing masses of activity on listings but little selling. Since June London agents have listed 13,000 properties over £1m in value but sold only 2,100 properties.
 The withdrawal rate is the ratio of withdrawls to sales+withdrawls in a period. In Prime London >£1m it is ~80% at the moment. What this means is that agents are listing tonnes of property but the number of buyers is unchanged and remains low.
As vendors come to market, typically with high expectations of their sale, egged on by agents promising good prices, those that aren't priced attractively versus local stock are experiencing low viewing activity.
Estate agents focus their time on what they can sell. Of course they want your listing. It attracts more buyer eyeballs to their large portfolio of stock for sale. Since these agents are only selling one in in five properties they focus their time and effort on those properties easiest to sell.
Most vendors will get frustrated at valuations promised (by an agent that wouldn't have won the instruction if they told you the reality) and lack of activity delivered. With limited information on what is going on they pull out frustrated. Another withdrawal.
Introducing Movewise Local Market Reports
Movewise has started giving vendors a full local market report. If you'd like one you can order it for free here.
Armed with total market information, vendors can make an informed an decision: are you willing to meet the bid now, wait on the market, or pull out and come back another day?
We don't like wasting our time and clients' time with properties that don't sell since, unlike local agents we are not in the business of using your property to get buyers for something else we're selling. We only care about you, you selling and you achieving the maximum price possible. We'd rather you came back another time if you don't like the market today.
A Movewise Local Market Report looks like this and details activity in your area and price range at both an aggregate and estate agent level. This allows us to ensure you are being properly marketed with the right agents.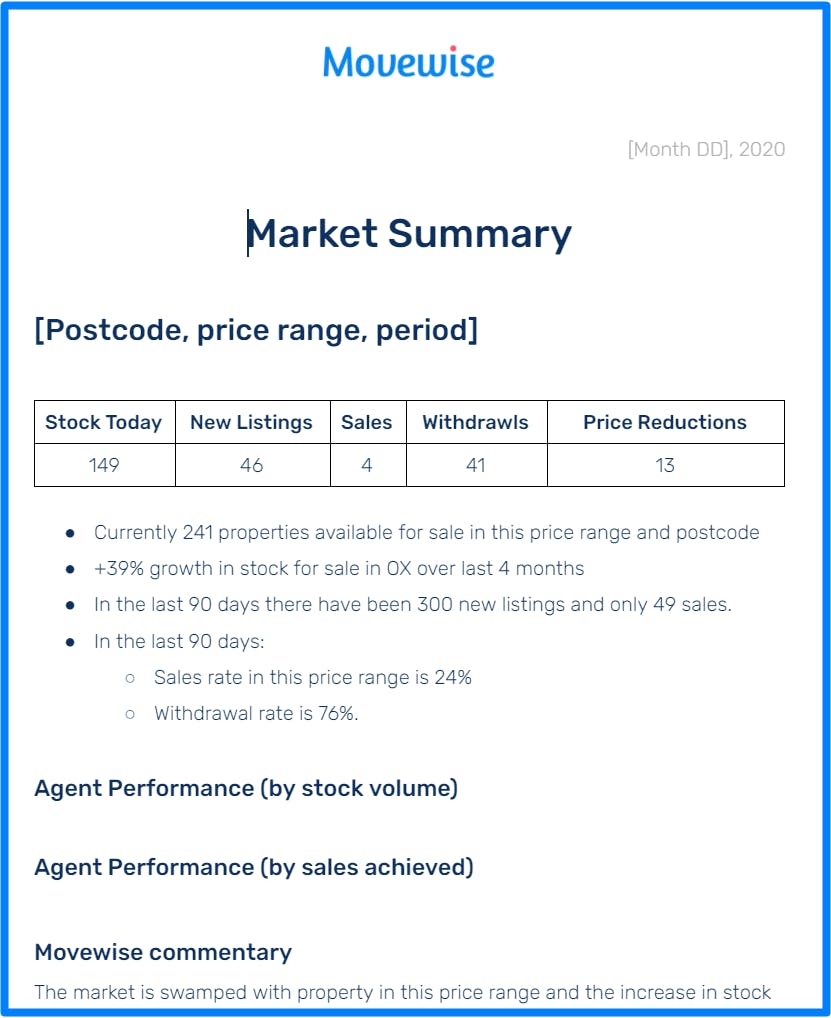 Get Market Report

Low sales rate impacting fee negotiations
A further impact of this low sales rate is agents are less willing to negotiate on fees.  They have so much stock already that they can't sell they just don't need another client at a low fee.  So they are much less willing to negotiate on fees than before.  More than ever this is a stark reminder that saving yourself 0.2% on fees and listing at a speculative price is a waste of time.  You'll end up dropping your price far more than your fee saving in order to sell.  Pay a fair fee and be informed on your local market and comps.
Sorry for the gritty news. The newspapers are full of wonderful stories of house prices rising across the UK and the return of pent up demand post the covid lockdown. That's true if you are selling a £250k property outside London. However for Prime London it's a different story.
 Have a great weekend all.
The Movewise Team.