The fortnight in five seconds
Bank of England raises interest rates
Few signs of concern from buyers yet
Are Boxing Day reductions sensible?
Merry Christmas from Movewise
Bank of England raises interest rates
Last Thursday saw the Bank of England increase interest rates for the first time since August 2018, having kept them at historically low levels throughout the Covid-19 pandemic. Fears over inflation forced the Bank to put the rate up from 0.1% to 0.25%, but this is still lower than at any point in history prior to 2020.
Few signs of concern from buyers yet
Our property team have not seen any evidence of interest rates worrying buyers at this stage. "I don't think we are likely to see much of an impact, as borrowing is still so cheap," says Kirsty Burnham, Movewise's head of property. "Interestingly, none of the agents, sellers or purchasers we've been working with have even mentioned it."
However, last week's rate rise is unlikely to be the last for a while. Analysts expect further increases in 2022, with Capital Economics forecasting interest rates to hit 0.75% next year, and Nomura expecting 1%. 
Are Boxing Day reductions sensible?
At this time of year we often see estate agents recommending reducing the price of properties that haven't sold in order to take advantage of the spike in traffic on Rightmove and other property portals on Boxing Day. While it is certainly true that home searches see a huge day-on-day increase on 26 December, that is partly down to the fact that not many people are searching on Christmas Day itself. Boxing Day is in fact just the start of the surge in traffic that tends to peak in January, as our article on the best time to sell a property explains.
As for reducing the price, we think there are better ways to increase your chance of a sale: we say don't drop the price, drop the agent: a solution that Movewise makes easy. Find out why in our guide to tackling unsold property.
Movewise news
Our property team have been busy developing partnerships with solicitors who sell multiple properties and can benefit even more from the increased value and efficiency our innovative approach delivers. We recently closed a tricky sale in Staffordshire for one of these clients, who gave us a glowing testimonial: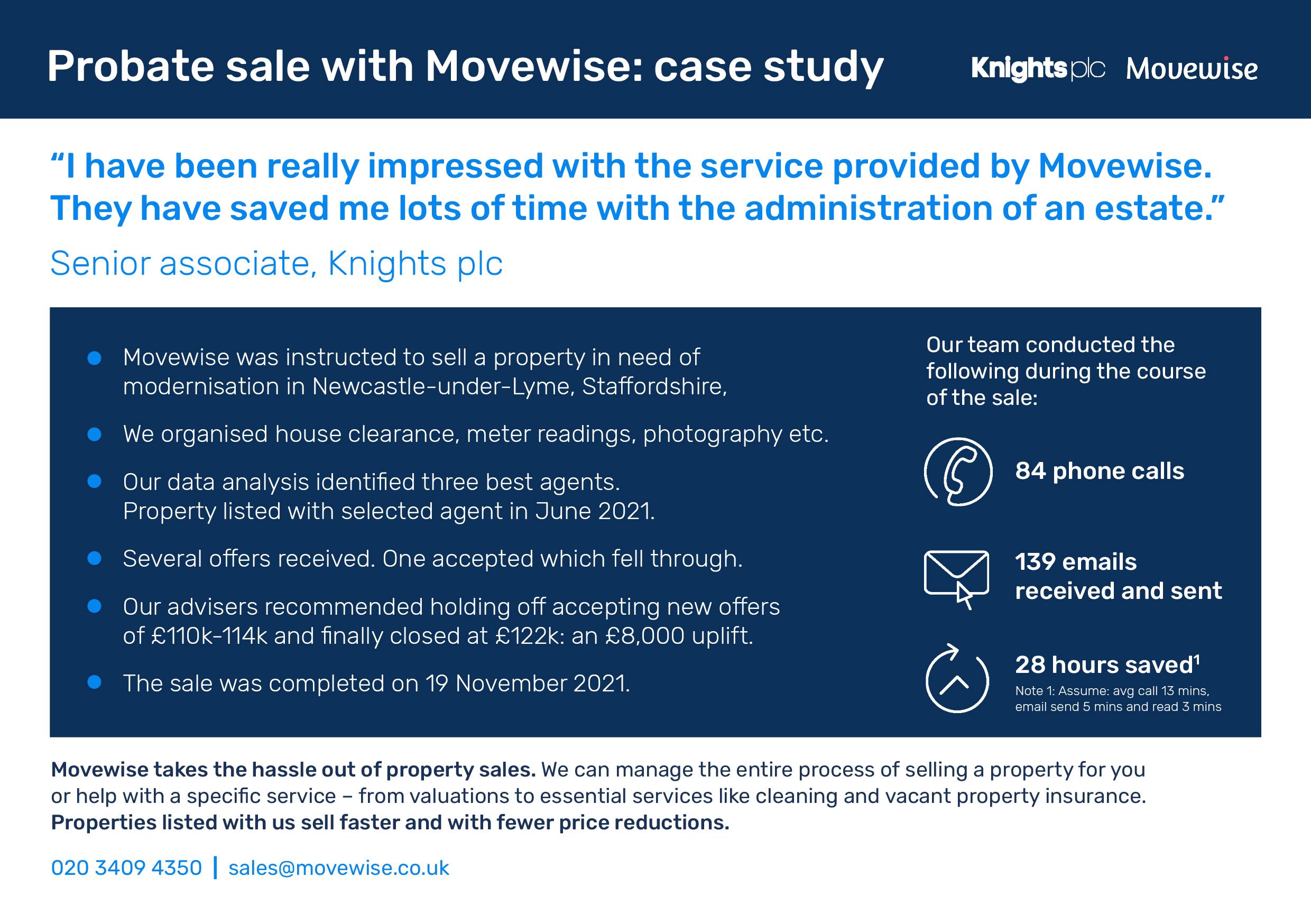 If you're selling a property or know somebody who could benefit from our expertise, we'd love to hear from you.
Finally, all of us at Movewise would like to take this opportunity to wish you a very happy and safe Christmas and New Year. This will be the last newsletter of 2021 – if there's a topic you'd like me to cover in 2022, either in the newsletter or in one of our web articles, please get in touch at robk@movewise.co.uk.
Have a fantastic festive season!
The Movewise Team