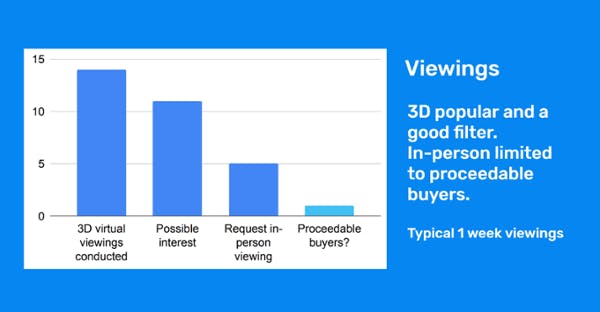 5 Seconds on UK property
Viewings slowing down as many go back to work
In person viewings limited to "proceedable" buyers
Prices holding up and listings back to pre-covid levels
Agents outside London seeing more applicants from London registering interest
If you have found what you want to buy and need to get under offer call us.
Viewing activity slows
Viewings particularly at the £800k+ level have slowed significantly as the pent up pressure eases and many buyers go back to work.
3D viewings are popular and remain a good way to filter through interest.  In line with government guidelines, agents are only conducting in-person viewings with proceedable buyers: ie those paying cash or already under offer.  We estimate another month for those just listed to get under offer and for in-person viewings to pick up in volume.
Our Advice: Don't be dis-heartened if you have had a lack of viewings. This is likely to re-balance as new routines are established but it has had an impact at the top end of the market in particular. 
Prices holding firm
Vendors are typically coming on with reasonable expectations of value and then holding firm on their listing price rather than reducing.
Buyers are smart and need to be worked
Particularly at the upper end of the market, buyers know they should have a strong position and so agents need to work hard, showing multiple comparables to justify listing value and generating interest in order to deliver sales.
Move to the country is real
We note the move to the country anecdotally appears to be occurring.  Agents outside London are reporting increased registrations of London based applicants.  This effect will take time to feed into market data.
Mortgage valuations picking up
Surveyors are back out working now and mortgage valuations are getting done more quickly but offers remain slow to come out from the banks.  Ensure you have a good mortgage broker.

Have a great weekend,

The Movewise Team